Radiation Oncology Alternative Payment Model: Clinical Implications
In July 2019, the Centers for Medicare and Medicaid Services (CMS) announced details on a new mandatory alternative payment reimbursement model for radiation oncology. The Radiation Oncology (RO) Model plans to shift departments from a fee-for-service billing scheme to a site-neutral, one-size-fits-all bundled payment program, with the overarching goal of reducing Medicare expenditures while preserving or enhancing the quality of patient care.
Though the target launch date for the 5-year test model was slated as early as January 1, 2020, the large volume of feedback from major players in radiation oncology (AAPM, ASTRO, ABS, etc.) prompted CMS to delay the implementation of the proposed changes, with July 2022 as a revised target date. However, the rule update indicates CMS will not delay publishing the final regulations if they're able to do it sooner.
The proposed changes are large in scale, affecting 40% of radiation therapy departments, randomly selected from the US Census Bureau's Core Based Statistical Areas (CBSAs). Participation for those selected is mandatory.
Instead of reimbursing radiation therapy departments for different components of the treatment process (consult, simulation, planning, treatment, etc), CMS is proposing bundled payments per disease site, separated into technical and professional components, delivered retrospectively for radiation therapy treatment delivered within a 90-day episode of care.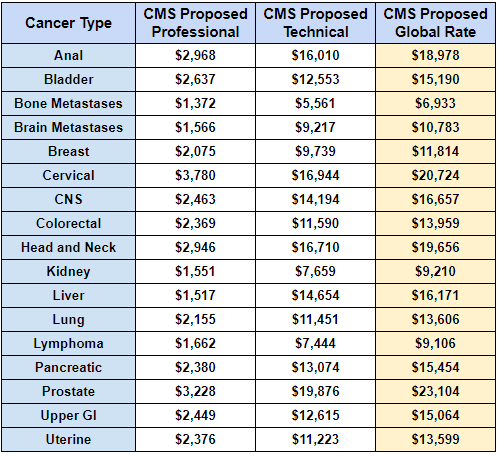 CMS RO model proposed reimbursement per cancer site
The move affects treatments covered by Medicare, which accounts for approximately
14% of healthcare coverage nationwide
. While only 1 in 7 patients is covered by Medicare, their payment and coverage policies are influential and set a precedent for other insurers.
CMS stands to save over $260 million during the 5-year test of the alternative payment model. This is achieved by applying discounts on the professional and technical components of the bundled payments. Additionally, CMS will withhold between 3-4% of the payment for later reconciliation of payment issues and quality measures incentives. The end result to radiation oncology departments is a cut to reimbursement and make an impact on the bottom line.
Impact on Medical Physics and Dosimetry
While medical physicists and dosimetrists have largely sat on the sidelines during the discussion of the proposed changes, the effects of the RO Model will impact the way we practice:
Automation: With overall cuts to reimbursement for the majority of disease sites, departments will be encouraged to find ways to make treatment courses more efficient while maintaining or improving plan quality. Employing automated treatment planning or one-click plan evaluation and reporting tools in the clinic will allow departments to streamline workflows and reduce inefficiencies.
Hypofractionation: As more data emerges on the efficacy of hypofractionation, the billing model will provide further impetus to hasten implementation of shorter treatment courses. Departments that have been quick to implement hypofractionated courses will be at an advantage when the changes take place. Complex SBRT and SRS procedures may also become more commonplace, especially for sites like prostate that otherwise require a high number of conventional treatment fractions. Despite lower reimbursement levels, demands on physics may in fact increase in step with the rise of treatment complexity.
Brachytherapy: Published in 2017, the ASCENDE trial showed that brachytherapy boosts following EBRT for intermediate and high-risk prostate cancer improves rates of biochemical failure versus external beam boosts. Considering the overall cost of brachytherapy treatments, especially LDR techniques for prostate cancer, brachytherapy may be used more frequently in a resource-constrained environment. That said, the American Brachytherapy Society has expressed concern that overall use may decline given the cumulative cost of multi-modality treatments.
Budgeting Constraints: An environment of reduced reimbursement will constrain resources and may result in reduced investment in new and cutting edge clinical technologies that create higher quality treatment plans. The model's built-in cost reduction and withholdings create disincentives to implement new technologies, or at least make them less economically viable. A tightened budget could also result in reduced staffing levels or replacement of board-certified physicists and dosimetrists with less qualified staff. This is an apparent paradox in the face of rising demands to develop or further strengthen hypofractionation or SRS/SBRT programs and strive for accreditation status to recapture quality withholdings.
Proton Therapy: The impact on proton facilities will likely be dramatic. The amount of the proposed bundled payment, being just half of what a fee-for-service course might be reimbursed, won't come close to covering the cost of proton therapy. If CMS decides to move forward and include proton therapy in their model, proton centers will likely experience financial hardship. The Alliance for Proton Therapy Access (APTA) has argued that the new model puts an undo burden on high-cost treatments like proton therapy that may force proton therapy centers to close, which would reduce the availability of this treatment option for disease sites for which proton therapy has been shown to be superior to other available therapy options.
The proposed alternative payment model clearly has wide-ranging implications. Multiple professional organizations such as AAPM and ASTRO have weighed in on the proposed changes with concerns and feedback, and there has been some good discussion from AAPM on the pros and cons of the new model. With CMS delaying the implementation date and uncertainty surrounding when rules will be finalized, radiation oncology departments now have some time to prepare for changes coming their way.
What are your thoughts on the alternative payment model and where do you think it will lead us? Share your thoughts in the comments below.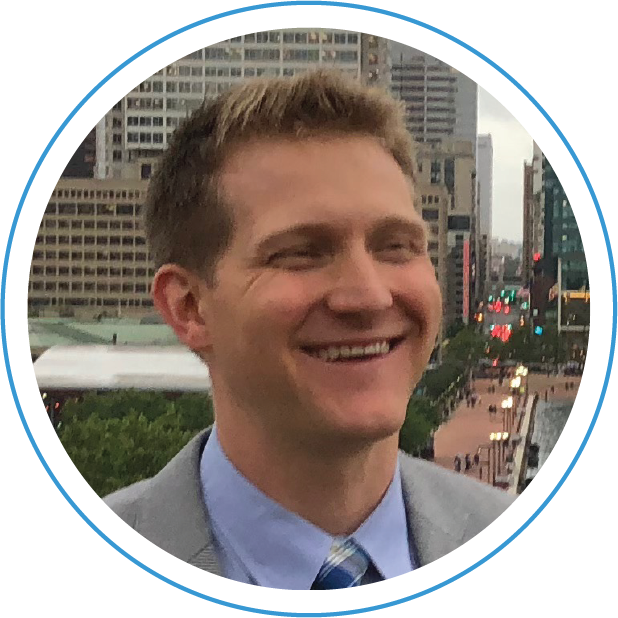 Written by Tyler Blackwell
Tyler Blackwell is a board-certified medical physicist with extensive clinical experience in radiation therapy. He is active in several AAPM committees, has served as secretary-treasurer for the Northwest Chapter of AAPM, and is an ABR orals examiner. Tyler dabbles in real estate investing and loves preparing breakfast for his two kiddos.
Keep up with Radformation
Get the latest news, announcements, and product
updates delivered straight to your inbox.