Thank you for visiting the RT-IDea EU booth at DSMF's Symposium in

Middelfart!
Thank you for your interest in our products. As leaders in clinical automation, it is our mission to bring efficient workflows, safe treatment plans, and standardized high-quality care for the hardest working cancer clinics around the world.
Automation from Start to Finish
Keeping up with challenging plans, documentation, and urgent demands can distract from treating patients. This is why our founders, a team of clinical physicists, came together – to develop a better way.
Contour
Automatically contour over 90 structures
Plan
Automatically generate 3D plans
Check
Automated plan evaluation and independent dose calculation
Treat
Automated treatment evaluation
AUTOMATION AT EVERY STEP
Streamline Your Clinical Workflow
From planning and documentation to billing and beyond, Radformation eases resource strains and increases precision in all stages of the treatment planning workflow. Our auto-checking and auto-planning tools are user-friendly, clinically relevant, and seamlessly integrate with Eclipse™ TPS.
Contour

AutoContour generates fast, accurate AI-driven deep-learning contours, with over 90 of the most common structures pre-loaded to jumpstart the planning process. Works seamlessly with most treatment planning and imaging systems, and provides a unique integrations with Eclipse™ and ClearCheck for streamlined contouring.
Plan
EZFluence automatically generates high-quality eComp and field-in-field plans in just one click—for any beam arrangement and any treatment site from head to toe.
Check
ClearCheck, our automated plan check and documentation software, ensures the highest quality treatment plans and saves time with 80+ plan checks and instant documentation.
ClearCalc, our independent calculation software, efficiently validates plan accuracy, providing instant dose validation for a wide range of machines and treatment planning systems.
Treat
ChartCheck actively monitors patient data in real-time to ensure safety for ongoing treatments. With automatic notifications for failing checks, plan errors can be resolved immediately, resulting in higher quality patient care and significant time savings.
Tools That Make an Impact
With Radformation's intelligent automation solutions, physicists and dosimetrists are able to spend less time on tedious components of the workflow and use their expertise for more complex clinical tasks.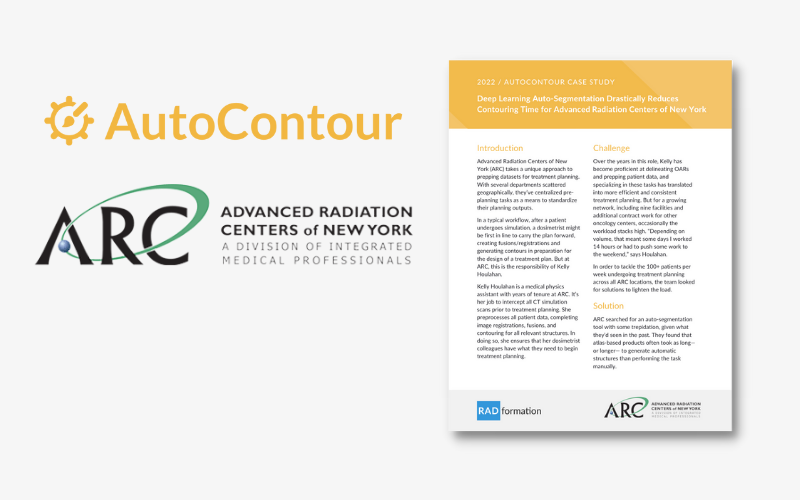 Advanced Radiation Centers of New York (ARC) use AutoContour to reduce contouring time by up to 60%, saving approximately 24 hours per week.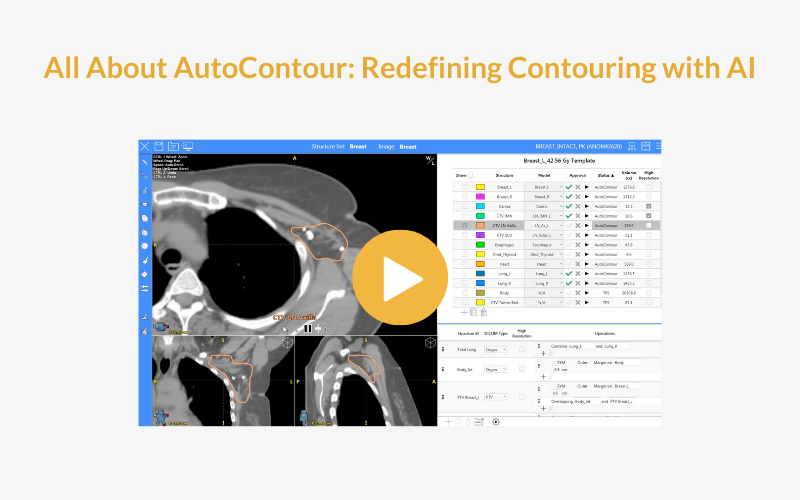 Watch a demonstration of how using our AI-powered contouring software drastically reduces time spent contouring while improving and standardizing the quality – no matter what TPS you use.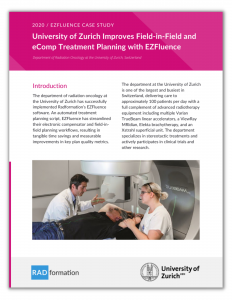 The University of Zurich uses EZFluence to reduce planning variability and improve plan quality, all while nearly cutting their planning time in half.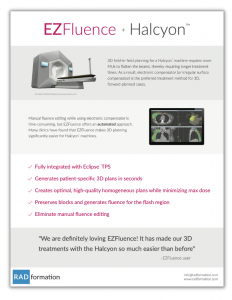 EZFluence simplifies treatments using the Halcyon machine, drastically saving time and bringing ease to the lengthy manual process.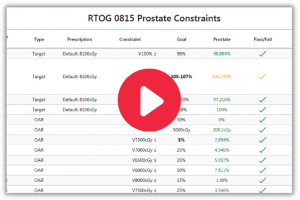 Hear from dosimetrist Timothy Hancock from Kantonsspital Aarau AG in Switzerland on how ClearCheck has improved his clinic's plan evaluation workflow.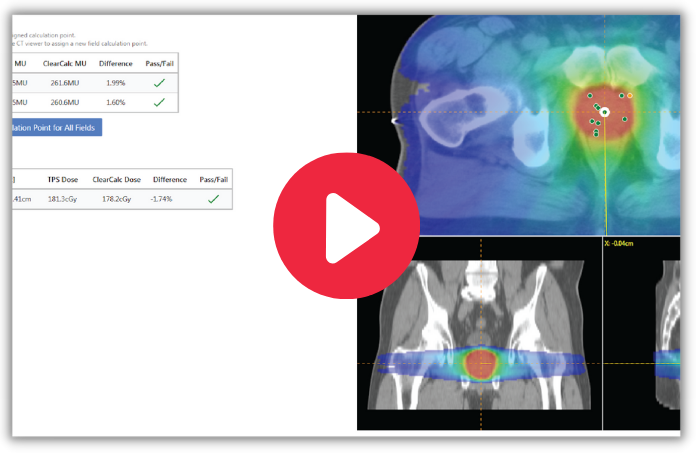 Watch our webinar that provides insights from both the physicist and dosimetrist perspectives on using ClearCheck and ClearCalc for optimizing efficiency for plan review and secondary calculations.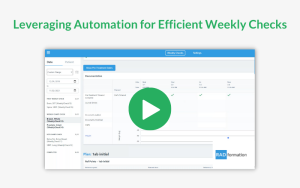 The weekly chart check is important in ensuring the quality of treatment delivery. Learn more about the impact ChartCheck provides with automation for more efficient efforts.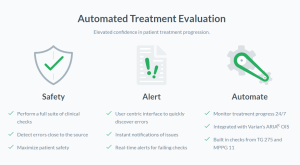 Continuous 24/7 monitoring verifies ongoing treatment data after each and every fraction. Plus, automated alerts provide elevated confidence in patient treatment progression.
"Radformation innovates creatively to support treatment planning and clinical workflow with solutions which are efficient, straightforward, transparent, and visually succinct. Most importantly, they do this in a clinically relevant way."

Where Can Automation Have the Most Impact on Your Workflow?

Contour
Automatically contour over 90 structures
Plan
Automatically generate 3D plans
Check
Automated plan evaluation and independent dose calculation
Treat
Automated treatment evaluation
Keep up with Radformation
Get the latest news, announcements, and product
updates delivered straight to your inbox.