ClearCheck Version 1.3 Released
From the new One Click Printing feature to the inclusion of Prescription Checks, the latest ClearCheck release brings exciting updates users have been waiting for.
ClearCheck v1.3+ represents significant progress in the area of workflow automation. Our most exciting features come directly as responses to user requests and feedback. The Radformation team genuinely enjoy conversations, demonstrations, upgrades, and other opportunities to communicate with the ClearCheck and EZFluence user base. Almost all of these opportunities to engage come with very educated and inspiring suggestions from the users, suggestions which are taken immediately to the core engineering team.
Thank you to our users for helping us deliver what we believe to be the most comprehensive version of ClearCheck yet. Our latest update includes…
One Click Printing
One-click printing is a way to streamline and standardize the treatment plan documentation process. Clinics can customize their own reports arranging the order of documents and select what plan information is important for their report. One click printing will print both plans and plan sums in a single click while allowing users to customize their cover page, plan properties, field properties, reference points, dose constraints, prescription checks, DVH, CT slices with isodose lines, BEV images, structure checks, and plan checks. In addition, clinics can upload their logo to include on the cover page, capture screen shots, and merge in other documents. ClearCheck's user friendly interface makes building a custom report template simple and fast. Generating a full treatment plan report now takes seconds instead of minutes.
Play the above video to see full report generated by One Click Printing.
Prescription Checks
For users with Eclipse version 15+ we've included additional prescription checks. The Eclipse prescription is compared to the plan parameters to verify consistency. The prescription checks looks for consistency in the number of fractions, dose per fraction, mode, energy, gating, bolus, and more. These additional checks can resolve issues quickly that might go completely unnoticed otherwise.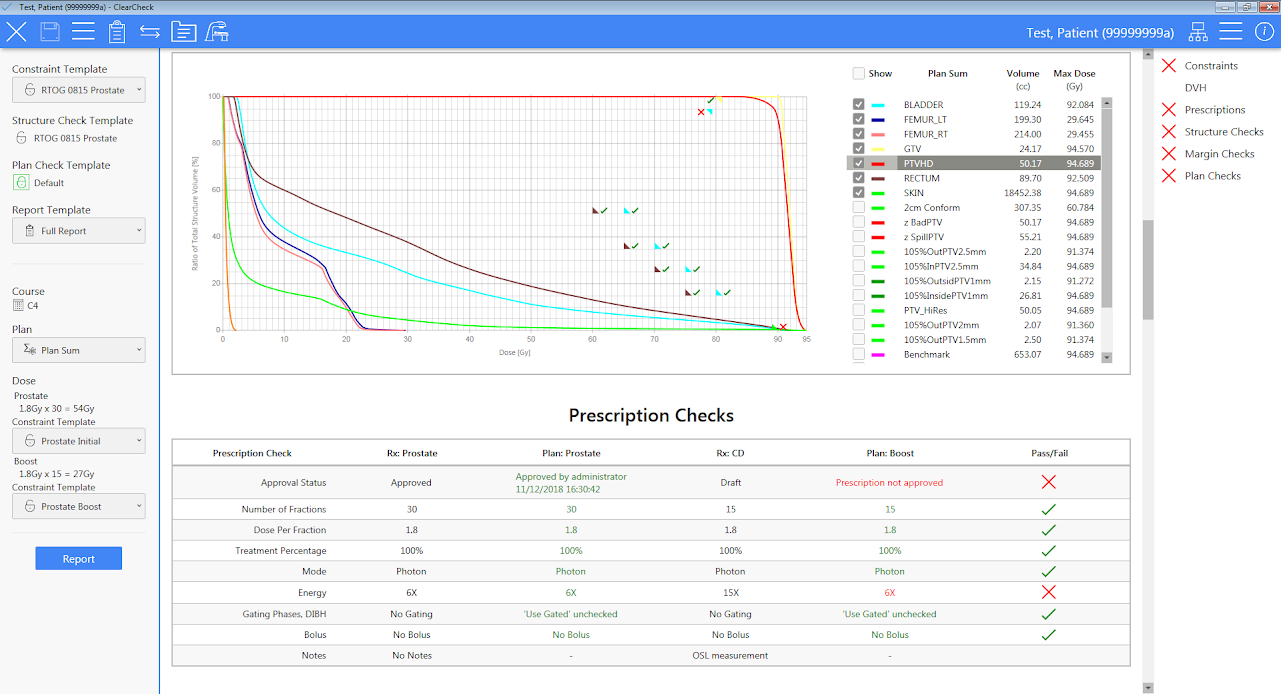 Prescription Checks pictured above.
Track Changes
Worried changes to the constraint template might have been made without proper approval? Maybe just by mistake? With ClearCheck's new Track Changes feature you will see these changes to the constraints in bold, displaying the original department template value and new changed value.
DVH Window
The DVH is now included in the ClearCheck evaluation window. In addition to reviewing all structures, DVH dose constraint markers can be viewed and the crosshair is interactive for instant evaluation. Simply type in the dose or volume and the crosshair instantly goes to the value.
While these are some of the most exciting new features, ClearCheck version 1.3 includes other under-the-hood improvements to make the experience of using ClearCheck version 1.3 the most comprehensive yet.
Keep up with Radformation
Get the latest news, announcements, and product
updates delivered straight to your inbox.