An Interview with David Craft on Machine Learning and Problem Solving for Cancer Care
Machine learning is rapidly gaining a significant foothold in radiation therapy research. These applications have the potential to broadly impact radiation oncology in ways that drive clinical efficiency and patient outcomes through higher quality, individualized treatment plans. As a former clinical physicist, I wanted to get insights from David Craft, PhD, on what kind of influence today's machine learning efforts will have on the future of cancer treatment. I teamed up with Radformation's operations research specialist, Troy Long, PhD, and together we sat down for a fun and enlightening conversation with David. We focused on machine learning and its clinical applications, which is an area of focused interest for David.
He works with a team of researchers at Harvard Medical School and Massachusetts General Hospital (MGH), tackling problems that affect radiation therapy and cancer treatment, including VMAT optimization, machine learning, and personalized cancer treatment. David's background is in operations research, which he explains is quite simply "math for the real world," which allows us to make better, more effective, decisions.
Outside of work, David is a naturalist and organizes foraging tours in the greater Boston area on a regular basis. He's also a yogi and accomplished musician, having published a few folk albums.
See the full transcript below for a text version of the video interview.
Please enjoy our interview with David Craft!
Full transcription:
Tyler:
Hey everyone, thanks for watching and listening in on our chat today with David Craft. I'm Tyler Blackwell, I'm a medical physicist with Radformation and I'm sitting virtually next to my coworker Troy Long, who's an operations research specialist and self proclaimed optimization junkie. And today we're chatting with none other than David Craft. I'm not sure we were ever formally introduced, but just a few weeks back, we found our ourselves enjoying the freshly powdered slopes of Breckenridge, we even shared a chairlift, I think, up the mountain.
David:
Feels like a long time ago.
Tyler:
Yeah. David is an assistant professor at Harvard Medical School and MGH, where he works with mathematical modeling, machine learning, etc. But he's also a naturalist, hosting foraging expeditions in and around Boston, and he's a fantastic musician, according to what I've heard and seen. David, welcome, thanks for joining us.
David:
You're welcome. Thanks for having me.
Troy:
So, one of the things that I feel like comes up a lot whenever having operations research people talk with an audience of clinicians is, what is operations research? I was wondering what would be your canned response? Because I think I've heard you say, math for the real world before…
David:
Yeah, that is definitely still my canned response. Because it depends on who asked the question. Sometimes, I say applied math and that sort of does the trick a lot of times, unless the person is actually in applied math, or they know physics or they… Because to a physicist or to an applied mathematician, if you say you do applied math, they're going to say, "That's not the math applied to the real world." And so, it's a math applied to dynamical systems or physic systems. So, I say math for the real world, and then I usually go for a pizza delivery or post office delivery or some kind of routing problem, where you're trying to optimize resources and do it the best way. And actually, I mean, IMRT is a pretty good example that you can give somebody if they have more than three minutes.
Troy:
Yeah, I think I usually go in with the IMRT and then talk about how value at risk and DVH are the same thing, and try to say, "Oh, we do a generalized problem solving but with math."
David:
Yeah.
Tyler:
I'm kind of curious, how do you even find out about operations research? Because it looks like you did engineering in undergrad, so how does that path head to operations research?
David:
Yeah. I mean, when I was applying to graduate schools, it was kind of I was applying in either applied math or statistics. And at that point, I just sort of learned about operations research. I think operations research, at least, when I was really firmly involved in it because I was in the program at MIT, it has this identity, kind of crisis all the time. It's always like, who's heard of us? What are we? Who are we? What do we do? Always, it seems like that's a… So maybe the label… And for a while, there was this effort to rebrand it, this is a long, long time ago, and they wanted to go with the science of better. I don't know, do you remember that Troy, the science of better?
Troy:
Uh-uh (negative). No, no. So, for me, it was always industrial engineering with a focus in OR.
David:
Yeah, I mean, calling it the science of better was kind of an interesting attempt, but apparently it didn't stick because nobody knows that anymore. But yeah, I just found it by googling around and saying, "Oh, this is a very interesting… This is exactly what I want, is to be able to learn mathematical skills like optimization and probability modeling and whatnot, that can be applied to real world decision making." I was also interested, at the time, in public policy as a potential so, those are kind of the programs that I applied to. Yeah.
Troy:
Okay, cool. And the MIT's operations research group is kind of a collaboration between multiple departments from what I remember, that it's kind of its own little standoff.
David:
Exactly. It has a lot of the business school. It has a fair amount of the EE, electrical engineering into math and some other hodgepodge people in there. Yap.
Tyler:
Well, I'm sure that, the working operations research has kind of taken you to a number of different interesting places, but recently, what have you been working on the past few weeks? What's open on your internet browser window?
David:
It's funny you asked me that, right now, as I look over to my other computer over there, I think, as you know, I've drifted a little bit away from sort of typical radiation stuff, but I am working on a problem with Thomas Bortfeld, my boss, who's actually growing a beard also, which is crazy. I've never seen him with a beard, so, I just had a chat with him before I was chatting with you guys, and there his beard was. Anyhow, we're working on this somewhat theoretical tumor control probability computation idea and the idea is, what happens if you are uncertain if a voxel is tumorous or not, so you have the probability superimposed on top of that voxel.
David:
And then, that's going to factor into your TCP calculation. So, you sort of have probability of… First of all, there's probability of being tumorous, and then there's the probability that if it is tumorous, you actually cure it with a dose and that's where the sigmoid function comes in. But then, an interesting, and again, somewhat theoretical because actually getting data on this is very difficult but the math… Forgetting that for a second, the math is interesting enough. And we're exploring this a little bit. If the probability distribution on the voxel is either one of an independent, each voxel is independent or dependent, and is probably more likely that they're dependent, if there's tumor in one voxel, there is a large likelyhood that there is tumor in another. And you try to write down a TCP calculation for that situation and then try to optimize it. It's pretty ugly.
David:
But we did a little bit of work with three voxel examples, and then we just had a conversation and well, we should probably do this for a little bit more than three voxels. And I have been a little bit out of the loop with actually doing IMRT-type calculations. So, I literally just downloaded onto my new machine MatRad, because I don't want to fire up my old stuff. I was going to say CERR. I love Joe Deasy, and I love everybody who… I still like it, but I felt like I should modernize a little bit.
Troy:
Yeah, this is that Mark Bangert's one.
David:
Yeah, exactly. Yep. So, actually, did you overlap with Mark at MGH, I mean, he was there-
Troy:
I didn't overlap with him. But I had met up with him in Germany and in London, and sometimes in the United States for just talking about optimization stuff, because some of his students would be in, some of the ones, and we were also working on similar problems, because we were doing beam orientation stuff and having some similar… Not necessarily, similar approaches, but similar policy thoughts about what the solutions would look like.
David:
Got it. So anyhow, so that's one problem that I've been working on a little bit. Probably the bigger thrust in my research right now… I have four or five things I'm working on, but the one that's kind of nearest and dear to my heart, although it's very difficult, so sometimes I feel like I'm barking up the wrong tree and I should run away and do something else. It is trying to understand sort of the genomics of something like radiation sensitivity, or drug sensitivity, why are some cells or some tumors resistant to radiation, and other cells or tumors melt very easily with a relatively low dose?
Tyler:
Is that Dr. S, kind of stuff that you've been working on that you presented at WIMP.
David:
Yeah, exactly. That's the Dr. S stuff. Yeah.
Tyler:
Yeah. That is really interesting to kind of get a grasp on… I mean, you know this, there's so many different data points to collect and sort through.
David:
I mean, what I'm starting to realize, and it's taken me a couple of years to really realize this in a really thorough way is that, and it sounds so trivial and obvious when I say it now but I'm going to say it anyhow, is, biology is very, very complicated. Simply, the simple question of what happens to… Ask a radiation biologist this question, it'll be interesting. What happens to a cell when you irradiate it? I mean, the number of things that unfold, the number of processes that unfold to dictate the fate of that cell, what will happen to that cell, it's very hard, we can't see this stuff. So, we being biologists over the last 50 years have developed all sorts of crazy assays, to try to basically decipher what's going on. And amazing work has been done in that, and we know a lot. But for all we know, there's a heck more we don't know, and so we can't really make the prediction.
David:
I was sort of naively going into it a couple years ago. Well, good machine learning, give us the data, we'll figure it out. But if you look closely at the Dr. S paper, you'll see that we take a good stab at it but we don't get very great results. The R squared values are pretty small. But anyhow, it's still fascinating. And I do think it's the way of the… I mean, I think in the future, when we treat patients, it's going to be the case. I don't know when this future is, maybe it's 10 years, maybe it's 30 years, maybe we get lucky and it's five years, but we take some genomic understanding of the details of their situation, and we use that information to prescribe either certain levels of radiation or certain fractionations of radiation, or certain drugs to go with it.
Tyler:
Yeah, so maybe we don't have an individualized profile that's 100% accurate, but maybe that data interpreted in a meaningful way can give a push in a certain direction.
Troy:
You might even think about it as a pre-treatment adaptation, because there's often… You start treatment, you can observe and have some type of realized uncertainty and then you adapt the treatment. But if you can move that observed uncertainty all the way to the beginning of treatment, then you're not going to have to expend those extra resources to have to adapt, that you can kind of start on the right track from the beginning, right?
David:
Yeah. No, I like that. Yeah, like that, the way to think about it. Yeah. So, those are a couple things I've been up to.
Tyler:
Sounds like you've got a lot going on, David, it's a lot of really interesting things. How many people do you work with or collaborate with? Or are all these people at MGH, or how is this organized?
David:
Yeah, it's kind of a mixed bag. I don't have a very big group that I kind of pay for right now, because for better or worse, I'm not the best grant writer there is out there. But I often find people to collaborate because they have an interest in what I'm working or vice versa. So, I'm working with some people at The Broad in Cambridge, those are some people from the more genomics and genetics standpoint. And I have a couple of collaborators over in Europe, and in The Netherlands, I have a couple people over there. And a couple people at MGH, so yeah, it's good enough to keep me going.
Troy:
I remember whenever I was in academia, that one of the big draws of having an operations research specialist who had some domain knowledge, was that you can actually consult in on other projects and kind of help along the problem solving process for coming up with a solution that is reasonable, I would guess. Do you spend a lot of your time or some non insignificant portion of your time doing that?
David:
A little bit. I mean, it's obviously more so when you're actually at the office with people, and you overhear somebody talking about random forest. I mean, nowadays, more of the consulting for me is actually on sort of machine learning stuff. Operations research, I guess… I don't know about the curriculum nowadays, but at least when I was there, machine learning was not a big part of it. And it's kind of interesting, too, I remember hearing about neural networks back in the day, around circa 2003, 2004. And it was kind of considered this kind of sloppy, non-convex… People didn't really respect it very much. Whereas, for example, support vector machines, which had very nice theory behind them, really nice theory, and were convex and whatnot. I mean, those are were in their heyday. Obviously, neural networks are now experiencing a very big heyday right now, even though mathematically, one still has the same feeling about them, which is to say that they're kind of big messes, but they work.
David:
But anyhow, the things you learn in operations research, they translate pretty well. I mean, optimization is the heart of all these things anyhow. But one thing that wasn't at the heart of all these things is sort of data science, the data splitting and doing that well and thinking carefully about that. That was something I had to sort of teach myself in the last few years to get a better grip on that.
Troy:
And kind of integrating the knowledge of the domain that you're working within kind of into some of these models or into the preparation of the data. Because I feel like there was a period of time where a lot of papers that got sent out to be reviewed were… My first machine learning model that somebody had gotten a script off of GitHub or something like that, threw some data in there and then pumped it out. And now it seems like people are taking a lot of the front end prep and development of how they're going to use sort of the known characteristics of the data in the process to train these types of models.
David:
Yeah, exactly. I mean, I think, we're in a very much kind of a strange time in the development of this stuff, because it's going to become more of the norm for data science. I mean, it already is kind of the norm, but all the tools are kind of still all over the place, so everyone has to… Well, people are reinventing the wheel every day, with millions of lines of code every day reinventing the wheel. It'll be interesting to see how it settles out and what becomes the sort of protocol software approaches we use for this stuff. Because everything is in such flux. I mean, if you fall asleep for six months, it seems like you're totally behind on-
Tyler:
Yeah. Well, I can definitely respect that viewpoint. I was a clinical physicist for about a decade before joining Radformation. And just not long ago, did we, in sort of the clinical realm, learn about the impacts of machine learning, and you see it more at the society meetings and AAPM annual meetings. So, for clinicians, that maybe don't have access to a lot of resources, what do clinicians need to know? Or, how would you explain machine learning? And this is sort of a basic question, but for people that don't have the higher learning on this, what do we need to know? Or how can this impact us?
David:
I mean, from the point of view of a clinician, I think the clinician needs to provide the sort of statement of, this is what I want, or this is what we need. And then, it should actually be kind of a show-me-the-money type of thing. I don't care about all these graphs and whistles and bells and other things, if you can provide me a solution that does this like the physician says… Just to use a very concrete specific example that everyone will understand. I would like to not have to draw these contours anymore.
Tyler:
Right.
David:
You can talk about units all day, and you can talk about your loss functions, and you can do all this, but show me the thing that actually draws my contours and I like them, and then we're done. I mean, that's sort of… I don't know if that's what you're looking for, but-
Tyler:
Well, that's an interesting perspective, actually. Because I was thinking more in terms of, medical physicists have a certain training and education, and the science of radiation and how it impacts cancer. And so, I guess I was sort of wondering, what more we need in terms of education or whatever to fill the gap, but what you're sort of suggesting is, as a clinician, do your clinic stuff, you tell us what you need. And then, data scientists, people that are experts in machine learning can do algorithms to employ their skills to sort of culture that.
David:
I mean, I do feel like… And I fall into this trap too, I think we all do, is that, we fall into the trap of an idea, okay, let's hammer it out, let's get a paper out. But I think it would be very helpful if we all were really focused on solving particular concrete problems, and that way, we're not just sort of spinning our wheels and writing derivative papers and whatnot. And I mean, that's easier said than done, but to always have in mind the final product. So for me, the final product that guides me in the main project that's near and dear to my heart, is a patient walks into a clinic, gets diagnosed and gets prescribed a course of action that really makes sense for that patient, which is fairly clear.
David:
And one of the reasons I came to this was something… I was talking to a friend, many years ago now, probably like five years ago, she was at Amazon at the time, she may still be at Amazon. And she always said, when they have a project at Amazon, if this is where you're at now, and you're trying to get over here, five feet to the right, instead of taking the next step over, think about kind of, how do I get one step… I know, not everyone's watching this, but how do I get one step, the N-1 one step, how do I get there? Instead of taking one little step forward from where you are, be like, "I need to get to that goal."
Tyler:
Yeah, how can you just jump over there?
David:
Yeah, really just think about how to get to that goal.
Troy:
I think in collaborative research in clinics, especially with… This definitely came up a lot in my past where I would be kind of the optimization solve a problem type of guy, but a lot of times, it wasn't the problem that I needed to solve that was presented to me, it was, how do I get to the solution they had in mind, or the solution methodology? So, if the idea was to reduce the downtime of machines in the clinic, if that was the actual problem, what they would ask for would be something like, oh, we need to figure out how to insert a patient into the schedule, whenever somebody cancels-
David:
Right.
Troy:
Which is a very different problem than the one that we actually need to be looking at. And that's also a very consulting thing where you try to get people to talk together and actually arrive on a single end goal, because a lot of it comes down to this communication along the pipeline of what's actually happening here.
David:
Yeah, I mean, just today, we had a presentation at work and somebody was presenting their stuff on auto contouring GTVs and comparing the extra benefit of having PET. If you're going to do that, does it decrease the variability of the auto generated contours and whatnot. And one of the physicians pipes up and says, "Well, in reality, we're not using CTs there we will be using contrast enhanced CTs." And so, to me, that was kind of throwing the whole thing up. You're not really connected to what we're doing on a day to day basis, then it's all good and well, and you did some nice plots. And I don't think it was that bad, I'm sort of giving an extreme example.
Tyler:
Right. You just have to kind of go back to the drawing board and redesign that one.
David:
Yeah, exactly. So, just keep in mind and be very in touch with the people who are going to be using whatever solution you're going to be providing and make sure you're on the right page.
Troy:
You might have actually been in this presentation, this was in AAPM 2019, where a physicist from a single physicist clinic had come up and ask a question at the end of one of the knowledge based planning sessions, and had essentially said, "I don't have the time or the knowledge or the data to implement any of these things, what does this mean for us in this section? We're not a big academic institute with access to students to clean data and all that kind of stuff." So, can you talk about how far off you think we are from impacting those types of clinics?
David:
Yeah. It's interesting because on the one hand, I don't think we're that far off at all except to say that people are very risk averse. And there are solutions out there for auto contouring, auto planning, knowledge based planning, machine learning based planning, and to my eye and to an eye that's not looking at the subtleties of the deviation, the subtleties of the dose distribution that people, in particular, clinics get very excited about and very crazy about, in my opinion, to my eye, those solutions, it's like, looks good, send them off, go, do it. But I see so many people say, well, they have an auto planning solution, even in my own group in Greater Boston hospitals that I talk to people. Well, there's this auto planning solution, but it doesn't measure up to the sort of specs that we want.
David:
But I think if you were to actually, compare those different plans, and if you could, for example, run a clinical trial of A versus B, which we're never going to be able to do, but you would not find any difference between… So, I think the technology is actually ready, but I think people are very nervous about adopting it because they don't want to do anything wrong, right? This is the way we always got it, and we do it this way.
David:
And nobody wants to standardize across the field, I mean, they're… Okay, I shouldn't say that, it's a bit of an overstatement, there are efforts to standardize, but as we all know, especially those of us who work at academic hospitals, Dr. X and Dr. Y who work in the same service, you can tell their plans apart. Oh, that's a Dr. X plan, that's a Dr. Y plan. And if we can't even agree in one hospital how to treat glioblastoma, how the heck are we going to, across the world or the nation or the city or whatever.
Troy:
I like to describe what… So, for people who are clinicians, who are wondering, what do I do at this company? The other kind of response that I'll give is quantifying ego into an auto planner, that we get… So, the main thing that I've worked on in the first few years here is EZFluence, which is a field-in-field planner. And people have a lot of very strong opinions on how 3D plans should look. And we kind of tried to introduce some new ideas, because most people will plan field-in-field as parallel opposed because your brain can process that, but if you do a bunch of non-coplanar beams, if you have seven beams, people are not going to do a field-in-field plan manually. They just won't do one. You probably do IMRT or something like that but, yeah.
Troy:
So, putting something new in front of people to then have them compare it to something that they're not used to doing. And then have very strong opinions on how it should look. And how do we build that in without making it complicated? Because the more knobs and buttons you push with people who are not necessarily informed about how the underlying algorithm works, they're going to rub it one way and think it's going to go this way, but it might go this way. I see that whenever I've observed people using something like a normal clinical TPS, is people have kind of a similar endpoint and they all rub it in different ways to get there through different pathways.
David:
So yeah, exactly. So, I mean, in a sense, the challenge, I guess, they seem more cultural than technological. And that's difficult because I wasn't trained how to deal with those problems.
Tyler:
David, do you think that there's… This has also something to do with just the paradigm of radiation oncology as it is today where, like you say, there's kind of a culture, there's a way that we've always done it type attitude toward it. I mean, a lot of the machine learning solution or automated tools can actually really save people time and decision making fatigue. So, I mean, from our perspective, we see that as something that's kind of a no brainer, but is this something that just requires a shift of ideology for us?
David:
Yeah, I don't know how it happens. I mean, one of the problems with radiation over the years is that, it was kind of somewhat incremental changes. So, we start… Well, why don't we fractionate two gray? Pretty much most patients get two gray a day, why not three gray? Well, because you go back and two gray was deemed a tolerable dose in 2D planning back in the 1960s and okay, and now we have ourselves… How many years later? I don't know, I can't do the math.
David:
60 or something. And we still… Again, it goes back to the risk-averse thing, and it also goes back to it… Well, if you're going to go to three gray, you got to prove that, that's okay. Okay, well, that's going to cost a lot of resources and money and time to prove that, even though I think most people would say, Yeah, it's probably fine to… But of course, people talk about hypo-fractionation, more drastic changes. But you could save a lot of money and treat people a lot more efficiently if you could just go to three gray a day. And we might be able to do that in a lot of different sites, or four gray. But none of these things get really chatted about, talked about that much because it's just so hard to make these changes. So, I don't know if I answered your question.
Tyler:
I mean, in a lot of ways, yeah. Yeah, I think it's broadly inconclusive, but that we're sort of steeped in sort of tradition, and we have this sort of, appropriately, evidence-based theory behind how we're treating. And if we want to treat in a different way, we sort of need to substantiate it in some scientific manner. And that just takes some time.
David:
Yeah, so maybe… Yeah.
Troy:
Something I really tried to get going earlier on in my research career was looking into some type of, taking it to the extreme spatial temporal planning. You want normal tissue to get an infinitesimally small dose spread out over many, many fractions, and tumors to get one big block all at once. And so, if you were to not have the assumption that the treatment has to be the same every single fraction, how does that look? And there are certain functions for trying to quantify dose over time, but whenever I talk with people who were more intimate with the physics of it, they're kind of like, "Yeah, but those don't really work." It was kind of the follow up. So, I was like, "Okay, well, what if we were to push it to the extremes and plan just based on trying to get those high doses and low on the outside."
Troy:
But it never really picked up traction talking with clinicians to be like, "Oh, you mean I'd have to develop more plans for a patient or something like that, versus looking at…" I'd almost got it there presenting it as, "Oh, what if we were to take a plan and then shift that plan over multiple fractions to be different, but it sums up to the same original plan." And that was kind of bought into a little bit but never really got the green light to use the time to do that.
David:
Yeah, exactly. I mean, maybe that sort of points to the direction that if we can establish workflows, protocols, whatever, to do, and people can really accept sort of an automated planning based on just replicating what we do today, once we get that going, you're in a better… Because that way, you presumably don't have to… If the plan is automatically generated, maybe it's automatically QA-ed or virtually QA-ed or something like that, or not QA-ed, then we can move to… And then, if you add to it that different centers are going to be doing something differently, and then you add to the final piece of this is national registry, which we should have… International registry which we should have, people talk about this all the time.
David:
But again, the momentum at… The barriers to getting such a thing off to happen, is so insurmountable in my opinion, that it makes me not even want to work on it. I often tell people, the single best thing I could and potentially should do, for this field or in this field is simply work on that.
Tyler:
David, you said, that you were interested in policy, so is that something that… I'm speaking out of turn because I have no idea how this happens, but is that something that needs to be in some way mandatory from a national level or an international level? Or how would that even work?
David:
I think a national level policy, top-down policy, national level… Forget international, that's insane.
David:
A national level… I mean, I would love to see unified patient records. Readable, anonymized… You have to deal with the anonymization thing, some people don't want their data public. I think a lot of people might be like, "You know what? That's fine." I mean, a fair number of people would be like, "Oh, I actually want my patient record to be…" And there are moves by private entities to do this, I mean, Apple has Apple Health and Apple Research or whatever it's called. But if it doesn't really come from a sort of top-down, and of course, single-payer health care would help with this whole thing, too.
Tyler:
Right. If you could tie it to reimbursement somehow.
David:
Exactly, yeah. But if it doesn't come from that, it's going to be micromanaged by different entities and different… And it's just going to be what we have today, which is a mess.
Troy:
The motivations of the people who hold the data might not be that clear.
David:
Right. I mean, even within a hospital, it can be very difficult to get data. People are like, "Why? Can't you just get the data and solve that problem?" I'm like, "I can't get it in my own hospital." Physician X doesn't want to give the data away, because that's position X's career, and that's nuts, right? And I also think about it as, I think, patients owning their data. And then, a patient should obviously be allowed to have full access to all their data. And they pretty much do, I mean, it's not that easy to get it but occasionally, patients ask for a CT scanner and whatever. Here's the CD…
Tyler:
I haven't seen one of those since '95.
David:
I'm assuming patients could do it, you could have it done from a patient population or a crowdsource perspective, or the patients all own their own data, and then they can put that into some cloud. That would be, I guess, a potentially doable way to do it also. But then, the patient's data store or what their data set looks like has to be, again, some kind of standards.
Troy:
Yeah, for clinicians today, if they want to prepare for this type of a future where there is some type of standard data set, what should they be doing right now? Even just naming things and deleting bad contours before saving it and things like that, I feel like would be immensely useful.
David:
Yeah, that would be very helpful. And also, I don't know, maybe clinicians could take their firm opinions and re-examine them. Is this protocol-based plan or this automatically optimized plan… Do I really think it's going to be different than my kind of like, well, this is the way I like to do it. Really kind of re-examine those biases that creep into all people and all clinicians. There's stories of clinicians treating patients differently this week than last week, because they just had an incident with a radiation toxicity incident. So, now all of a sudden… But that type of like, oh, that happened two weeks ago, so I'm going to change the way I plan today, it's a little crazy, and it should be more data driven than that.
Troy:
Have you ever proposed the idea of putting error bars on final dose calculation stuff? There's shift uncertainty, but every time I ever bring up, "Oh, let's present people with the uncertainty." It's usually met with a lot of like, "Well hold your horses now, we don't want to do that just yet."
David:
Yeah. Back in the day when Jan Unkelbach and I were sitting next to each other for many years in a row at MGH, we used to joke about… Only half joke, about writing a paper that kind of tallied up all the uncertainties, not only set up but uncertainties in the TCP, uncertainties NTCP, in dose calculation, in patient motion, put all these in, and once you have all those, every reasonable treatment plan is exactly equal to every other reasonable treatment plan. There is absolutely no difference between these plans if you factor in all these uncertainties. And that probably would have been a pretty cool paper if we wrote that.
Troy:
I would have loved that paper, because you see people who have a bound of 4500 on some structure, and 4499 and 4501 are two completely different things.
David:
Yeah, it drives me nuts. It drives me-
Tyler:
Well, and it pushes the optimizer quite hard. And a lot of times, you get a sub-optimal plan, that has a high duty cycle or whatever, because people are really pushing on these things to get even tighter on a certain tolerance.
Troy:
And they're pushing on them with DVH optimization.
David:
Yeah, and it's a cultural thing. I mean, these people staring at these DVHs and dose clouds on their computer and knowing that, that thing is going to be screenshotted and put into some patient record, and they follow the protocol, everything's good. I mean, it's kind of like, this is crazy everybody, this is totally nuts, but there it is.
Troy:
Yeah.
Tyler:
Well, the departments that we work in, radiation therapy is very complex and there's a number of different problems that probably could be resolved. So, aside from something that could really… I don't know, maybe machine learning could apply to other departmental type of things, but what are the problems you think are kind of low hanging fruit, from a radiation oncology department perspective? Not treatment planning, for example, or optimization of dose calculation algorithms, but maybe just operations, solving problems there. I mean, I think that maybe your experience in this could kind of broaden to hit the whole hospital scope, but really just radiation oncology for this question.
David:
Yeah. Well, we've already touched on a couple of them, I think patient scheduling is… Well, I think examining the workflow in your linac load, especially in light of what I was saying about two gray versus three gray… I bring that example up a lot when I talk about this stuff, just because two gray to three gray sure, it's 50% more dose, but that can have a huge impact on a patient needing to come in for six weeks versus three weeks or four weeks. It can have a huge impact on the effective usage of an expensive machine. I don't know that, that's low hanging, it sort of seems like low hanging fruit except for the fact that it's policy. And this is not the way we do it. I think, it's a low hanging fruit… I'm going to say that auto contouring and auto planning are relatively low hanging fruits. Many vendors have solutions out there, and I think that many of these solutions are probably pretty darn good.
Tyler:
Yeah. So, the biggest problem is just adoption of the tools and softwares that are already existing.
David:
Yeah. I mean, a less of a not a low hanging fruit is this whole clean data storage stuff, that's not a low hanging fruit, that's huge amount of work, but the payoff would be great. But again, that's top-down thing. That's not even top-down from a hospital perspective, because one hospital, it doesn't really matter that much, what matters is like… And there's some people over in Europe, there's Jan Jakob [Sonke] is working on this a lot with the whole… They used to call it EuroCad I think they call it something else now, but this data… Learning from different data sources, but maintaining data privacy, these are good ideas, and they're really working hard on it and I hope more countries adopt it, or all countries adopt something similar.
David:
And we will get better at this, it's just sometimes, I guess, when you're in the game, it feels like it's very slow, but maybe, it is.
Troy:
Time feels like it's passing very slowly over the last few weeks anyway, so-
David:
That's definitely true.
Tyler:
Yeah. Two years ago, it was just March, right?
Troy:
Yeah.
David:
Yeah, exactly. Yeah. Other low hanging fruit… I guess those are the main ones there, because the technology is already there, so.
Troy:
Yeah.
Tyler:
Go ahead, Troy.
Troy:
I was going to say, the underlying patient database has a lot of things that are time stamped. And if you were to look at it from like a classical industrial engineering standpoint, you'd be like, oh, timestamp processes that are in a workflow, let's start simulating clinics. Automatically scrape distributions from that and see. If we were to add another machine, or how do we deal with downtime? Or what should actual policy be versus, oh, let's change the policy every three months and see how it plays out in real time?
David:
Yeah. I mean, I did see somebody talk about this recently, and they were sort of tweaking the schedule. It might have been at WIMP, actually.
Tyler:
Yeah, right. I remember that.
David:
And then, you're talking about… Then the question comes up of staff burnout, all of a sudden you're optimizes your schedule and maybe the dosimetrists enjoy having a little five minutes break now and then.
Troy:
… definitely the downside of having say, somebody with a business, make money for the clinic mindset, at the top having an engineer make a decision that can push it all the way to the limits. Yeah, exactly.
David:
That to me, is… It's all important to keep those dosimetrists happy, as happy as they can be in a job, and on it, and being really… Honestly, I mean, we had a couple of patients… Helen Shih, one of the doctors at MGH, she's an awesome physician, and she's a really hard worker, and she also just thinks outside of the box a lot, and she thought, wouldn't it be great to have a couple of patients come in after their treatments are over and talk to the physics group about their experience. And it was really interesting.
David:
Probably one of the most interesting, or the one of the biggest takeaways for me was the things that they said in terms of what could be improved. It was never like, could you make D95 a little bit hotter in my tumor, it wasn't that. It was like, oh, when you clip in the face mask, the sound of it being clipped in there really made me really anxious every day, pretty much. And then, just like, well, you could just put some softeners in there to make that not such a harsh sound. Or like, I really enjoyed the warm towel.
Tyler:
There's a lot of easy ways to make the comfort maximized.
David:
And one that I also know from a different patient telling me this is, is just the kindness of a dosimetrists. That's everything. And if this dosimetrists is stressed out because they're packed in like sardines, patients aren't going to like that either. Okay, get out of here. A little bit of casualness and then a little bit of humanity, probably goes a very long way. It's the only thing that patients remember, so.
Tyler:
But you seem to do a pretty good job keeping your humanity, you've got a lot of really fun hobbies, right? So, what do you like to do? Yeah, what's David Craft like on a weekend? Or, are you busy with optimization problems on the weekend? What do you like to do?
David:
Yeah, no, I generally… On the weekend in terms of work and science, I do like to read a lot of science. I can read science all… I mean, in fact, I have to try hard to read novels, usually, because I like novels and I like fiction in general, but I found myself in this world of like, wow, biology is complicated, let me try to learn more of it, and it's a never ending mission. But on that note, I like to observe nature, and now is a good time to go out for walks in springtime. And I just was out walking yesterday and observing a couple of flower buds coming into… Tiny little things that are coming in, and I'm like, "I never noticed that." And particularly, everyone knows the helicopters that come down from the maple trees.
David:
But I was just looking at the tiniest one emerging from the flower, I was like, "Wow, I've never stopped to notice that before." So anyhow, foraging for wild edible plants is one of my hobbies and I guess, my other big hobby is playing music and those things are… They're good antidotes to a 9:00 to 5:00 life in front of the computer.
Tyler:
Yeah. Are you still able to organize your forging tours right now or just going that alone?
David:
Yeah, I'm just going out alone. People have asked me to do a virtual one, but I don't want to do that. I mean, that seems a little silly. I'll just wait it out. I have been posting a little bit more on Facebook like, this is what's out there now, no excuse, get out there and you'll find these things, at least for Boston people. But yeah, hopefully, we'll get some socially distant forging tours happening in a couple of months. We'll have to see what happens. Nobody knows.
Troy:
Yap.
David:
But yeah, I try to take time away from the computer on the weekends.
Tyler:
Sounds good. And
Tyler:
So, how long have you been playing guitar? Because the video that you sent me was pretty amazing-
David:
Oh, yeah, so-
Tyler:
Maybe we'll link to that, I don't know, it depends on whether you want, but it was pretty incredible. Yeah, how long have you been doing that?
David:
Yeah, well, just to give the people who are listening some context if they don't click, big folk hero, John Prine died a couple of weeks ago, and I saw John Prine a few times in the last couple of years. And it was pretty cool to see this guy who actually… He had head and neck cancer, he got treated, he recovered. You could kind of tell by looking at his face that he kind of got a little bit mangled. But he got right back out there and wrote another couple of albums, bunch of albums after that. And then, he died recently of COVID complications. And he was this guy who could really put some really good lyrics into a song and so, as a shout out to him, I recorded this song on Facebook called Long Monday, because it was feeling like a long Monday anyhow, with all these Mondays you know, with the gray weather out.
David:
I've been playing guitar since I was in high school. I learned how to play guitar because I was in a high school musical and I was a cowboy, and the cowboy had this one part where he played a Lonesome Cowboy song. And they told me I didn't have to learn it, the guy in the pit orchestra would play the part, but I was like, "Well, it's just two chords I can…" Because I played the piano. I can learn to chords. Little did I know that I would really enjoy playing the guitar, and so, yeah.
Tyler:
It was a great tribute. I mean, it was a… Yeah, you've got a great voice. I feel like you'd be the perfect guy to have around the campfire. Maybe you could leverage these skills at the tumor boards or whatever. Whatever you need, if things get a little antsy or things get you anxious, you just pull out the guitar and chill everything out a little bit-
David:
Yeah, that's a good idea. Yeah, I usually keep the worlds a little bit separate, but maybe it's time to start to combine them a little bit. Yeah. I know every time I see Joe Deasy, every time I see him, he's like, "You eat any good plants lately." He's always asking about the foraging. I think he forgets that I also do medical physics, sometimes.
Tyler:
Yeah. Well, I think we got through a lot of stuff today, didn't we?
Troy:
Yeah.
David:
Yeah.
Troy:
Absolutely.
Tyler:
How do you feel David? Is there a question we should have asked you but didn't?
David:
Oh, man.
Tyler:
Like, what's your favorite yoga pose? I know you're into yoga.
David:
Yeah, favorite yoga pose. Probably just like… What I really like to do is just… A yoga teacher told me this once, she was like, the first pose you should do when you wake up in the morning, is just stand there and just forward fold, just bend over and let your body hang. It just really stretches out your back-
Tyler:
So satisfying.
David:
It's a pretty simple pose, it's called the forward fold. I don't know what the fancy name is for it but-
Tyler:
Me neither.
David:
Yeah, it's a pretty nice… You just sorta hang there for a minute or two. And really loosens things up, so yeah.
Tyler:
Well, I've got another really kind of random question. But you wrote this book, Some of Infinity, and you had a piece in there about the Rubik's Cube, are you still a master of the Rubik's Cube?
David:
Where's my Rubik's Cube? Oh, here it is. A master? I don't know about that, I can still solve it, unless I've had too many drinks and then it's interesting to watch my brain, my neural networks, which I guess at that point, the connections are a little different. And it's funny to watch myself when I can't solve it. And then, I pick it up the next day, I just solve it right away.
Troy:
Do you use the… Solve the base, sides, cross, corners, or one of those adaptive methods?
David:
Yeah, I use one of those sort of algorithms. It's like one face and then it's the opposite face and then, it's kind of a neat one. I was thinking about a neural network for the cube for a while. I worked on it for a bit but I found it very difficult to find a natural way to get the symmetries sort of understood by that, because this cube right here in my hand if I swapped all the yellows for oranges and all the oranges for greens, it's the same cube. It's like, if I shuffled two cubes with a R, L, U, U, B, whatever and do that, but the cubes are oriented in my hand differently to start with, it's the same cube but the neural network doesn't know that.
David:
So, I just struggled with getting the symmetries ineffectively and I gave up on it. It's also interesting though, because it's a combinatorial optimization problem. And neural networks are not known to be good at those. And yet, it's probably likely that there's a really good architecture for a neural network to really understand the cube. I just haven't seen it out there, though I've seen a couple of papers but-
Tyler:
You've got your eye on it.
Troy:
They had proofs?
David:
I haven't thought much about it lately.
Troy:
And do you have a quarantine cocktail recipe, a go-to?
David:
Whiskey. Whiskey in a glass.
Troy:
That's where I started, and then I was like, "I'm going through whiskey too quickly." So, I'll make like a… What is it? A Boulevardier or whatever, the whiskey version of a Negroni, that's-
David:
Oh, nice. Yeah, I actually made a whiskey version of the Rusty Nail the other day, which was pretty good. So, that's whiskey and a splash of Drambuie.
Troy:
Okay.
Tyler:
Uh-huh (affirmative) I see.
David:
But either red wine, whiskey, I don't get too complicated with my drinks.
Troy:
My wife and I went through a phase, recently, we were just like, oh, we're just going to eat really protein heavy. So, we made more shaken egg cocktails to get a little bit of that extra protein.
Tyler:
Oh, yeah, a little fizz.
David:
Oh yeah-
Tyler:
Like a Flip or an egg white sour-
David:
Tom and Jerry or something like that.
Troy:
I really like the ones that are just… It's basically eggnog without the cream, so-
David:
Oh my god, yeah.
Troy:
You just dry shake that, and I lower the sugar by a decent amount because it's pretty sweet normally, and yeah.
David:
What's that one called?
Troy:
I've just been calling it a Flip. Flip is kind of a very broad term, so I'm just like, oh, I'll just have a… We found some brandy here the other day so, yeah it's a Brandy Flip. We have a herb garden outside so I'll put some rosemary or something like that in there and a little nutmeg on the top and it's quite nice.
David:
I made a forsythia simple syrup the other day. Forsythia, I don't know where… I don't-
Troy:
They have them in Arkansas yeah.
David:
Yeah, it's out right now around here, I think yellow flower that comes out early spring. It's a little bit bitter but you can make a simple syrup with it, it's kind of fun in yellow. I haven't used it in cocktail, maybe tonight I'll use it in cocktails since-
Tyler:
Right, inspired. Yeah.
David:
And then, I can be like, "Well, I'm drinking tonight because it came up on the podcast."
Troy:
Exactly.
Tyler:
That's right. The Radformation people forced me into it.
David:
Yeah.
Tyler:
No, it'll be good when we can finally get together and have a drink together, and do a collective cheers, and then we're all probably ready for that.
David:
Yeah, definitely.
Tyler:
In the meantime, I'm happy that you're able to… And agreeable to doing this video chat, it's good to connect with you again, David, after shredding the slopes at WIMP. Yeah, it was fun chatting with you there. So, I'm glad that we kind of connected here and yeah, I really enjoyed chat.
David:
I did too. Nice to chat with both of you guys and see you guys.
Tyler:
Yeah. All right.
David:
Okay.
Tyler:
Thanks a lot, David. Take care, man.
David:
You're welcome. Bye guys.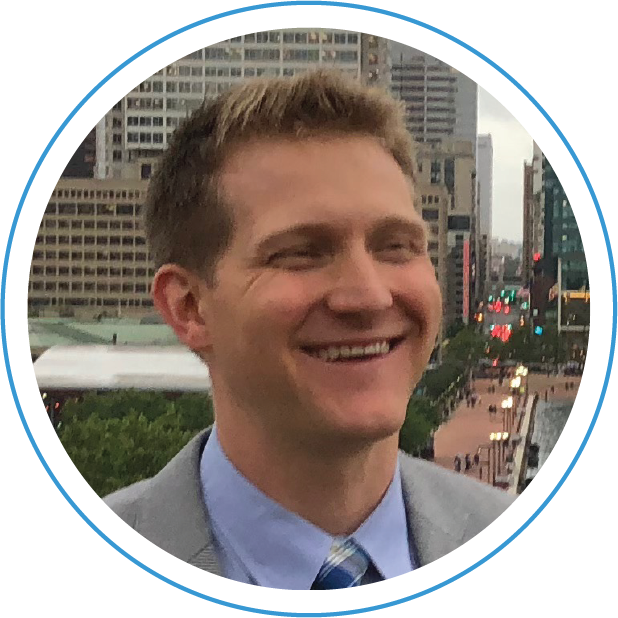 Written by Tyler Blackwell
Tyler Blackwell is a board-certified medical physicist with extensive clinical experience in radiation therapy. He is active in several AAPM committees, has served as secretary-treasurer for the Northwest Chapter of AAPM, and is an ABR orals examiner. Tyler dabbles in real estate investing and loves preparing breakfast for his two kiddos.
Keep up with Radformation
Get the latest news, announcements, and product
updates delivered straight to your inbox.