AAPM | COMP Meeting in Review
What a week! After years of preparing for a physical meeting in Vancouver, BC, the AAPM staff and volunteers were faced with the challenge of trying to distill everything they had planned into a virtual event with only a few months' time to coordinate. They pulled off a very successful virtual annual meeting that integrated high-quality session content, vendor participation, and an interactive social program that brought participants together on a single seamless platform. With over 1,000 more registrants than anticipated, the virtual meeting was very well attended—many session rooms reached their capacity. The triumph of the meeting can be attributed to relevant and timely session content, active social participation on the platform and on social media, and the pleasantly surprising perks of attending a conference online.
Virtual Platform and Content
Because of the compressed virtual schedule, the six hours of daily session content was highly curated. One of the most popular sessions from last year's annual meeting in San Antonio was "The Promise of FLASH", headlined by Julianne Pollard-Larkin, Lei Dong, and Billy Loo. The size of the ballroom for the 2019 session was generous, but only had standing room for latecomers. This year, the topic continued to garner lots of interest, with both FLASH sessions reaching capacity early.
Other crowd favorites were intrafraction motion and adaptive radiotherapy, imaging for proton therapy, clinical outcomes monitoring, dosimeters and portal dosimetry, MR-guided RT, automation, TG-203, and patient-specific QA, among others.
Alongside the video player in each session room, the chat feature added a unique social environment. Participation in the chat varied depending on the session, with some being quiet and others very lively and playful. What the chat offered was a unique opportunity to discuss the session content in real-time with other session participants, as well as with the speakers themselves. This is otherwise impossible at a conventional meeting, but because the talks were all pre-recorded for this virtual event, speakers had the ability to interact during their talk. Also, additional resources could be shared to complement the discussion or the slide content.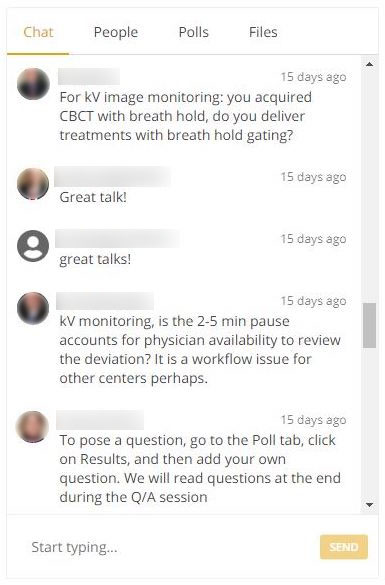 An annual meeting wouldn't be the same without participation from vendor sponsors. The virtual exhibit hall included over 50 corporate participants, with individual pages featuring product videos, resources, and other information. With a parallel session track dedicated solely to vendor-related presentations, the Vendor Showcase offered the ability to interact with commercial content in direct competition to other sessions, something unique to this meeting. On Monday afternoon, Kurt Sysock, CEO represented Radformation in the Vendor Showcase with his talk on
"Automating Plan Checks for Increased Safety and Efficiency."
The Rise of Twitter
Perhaps as a result of the virtual environment, there was a flurry of social media activity related to the joint annual meeting, especially on Twitter. Of course, absent the opportunity to casually bump into colleagues on the way to a talk or on the exhibit hall floor, Twitter is probably the platform that is best suited to replace those on-the-fly discussions.
And AAPM encouraged it, lacing their own tweets with relevant hashtags and creating incentives to participate in activities such as the selfie scavenger hunt, in which participants were instructed to post selfies with household items (mugs, objects that start with M or P) and other #medphys related items (old conference badges or Medical Physics journals) and include the hashtag #MPScavengerHunt for a shot at a tiered prize set.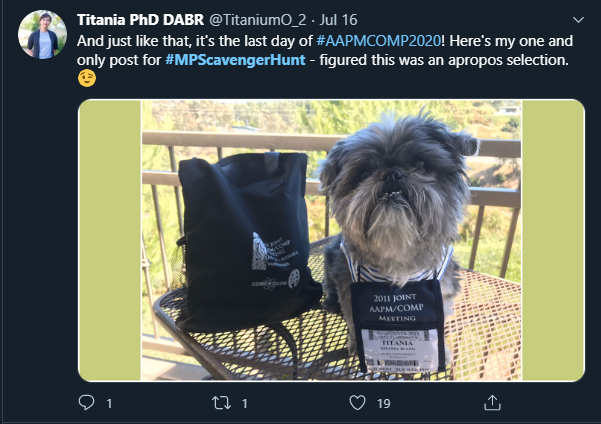 For those that purchased a virtual meeting T-shirt, there was more Twitter fun to be had, with YETI-branded prizes on offer for posting photos with their shirts and the hashtag #MPTshirtBattle. The competitions were successful in curating a social community among Twitter participants, revealing the personal side of the physicists that participated.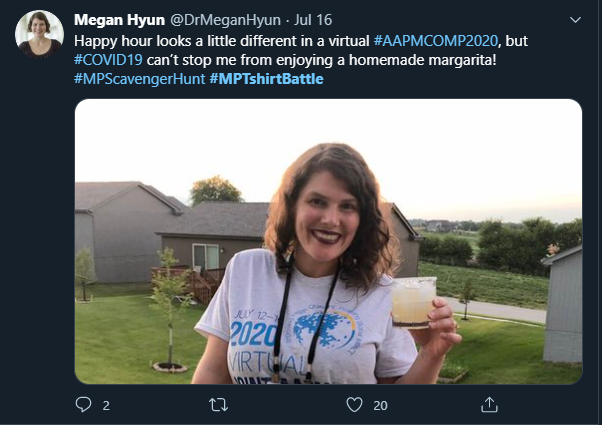 The largest draw to the social media platform was likely the session entitled "Hashtags 101: Social Media for Medical Physicists," where some Twitter all-stars gave their perspectives and best practices for using twitter not just for social connection but also for communicating science among peers and creating an atmosphere of casual collegiality outside of physical meetings.
Virtual Conference Top 10
Over the course of the meeting, it was clear that there so were many great things about attending the conference virtually compared to the physical meeting. So naturally, I felt compelled to scratch my favorites down and share them with you. Here are my top ten:
1. Lunch quality was greatly improved over exhibit hall offerings…and no more stale coffee!
2. The temperature of the meeting rooms was consistently comfortable. There was no need to bring a sweater for the icy conference rooms!
3. You could actually exercise during the meeting: I pedaled on a spin bike during a couple sessions to get my heart pumping without missing anything.
4. The session chat feature was an unexpected surprise. This was so good that it ought to be incorporated into future physical meetings. Seriously.
5. Travel from room to room was effortless, eliminating the need for the convention center map.
6. The Thursday talks were well-attended. We all avoided the rush to the airport to get back to the clinic.
7. Striking a balance between the conference and family/pets was a possibility.
8. The dress code was flexible: conference T-shirt, sweats, business on top and party on bottom…you decide!
9. All session content will be available to registrants for up to 6 weeks, including the opportunity for additional credits.
10. The barrier of entry was low and didn't require travel and accommodation. This and the lower cost of attendance allowed access to those that typically aren't able to attend.
In Conclusion
Overall, the virtual annual meeting was a big success! But while the buzz of the meeting has passed, the content is still live for another six weeks for those that registered. With so much uncertainty about the viability of physical meetings over the next year, this meeting provided attendees and organizers alike with meaningful feedback on how to continue making AAPM's annual conference a must-attend event. What did you think were the best parts of the meeting?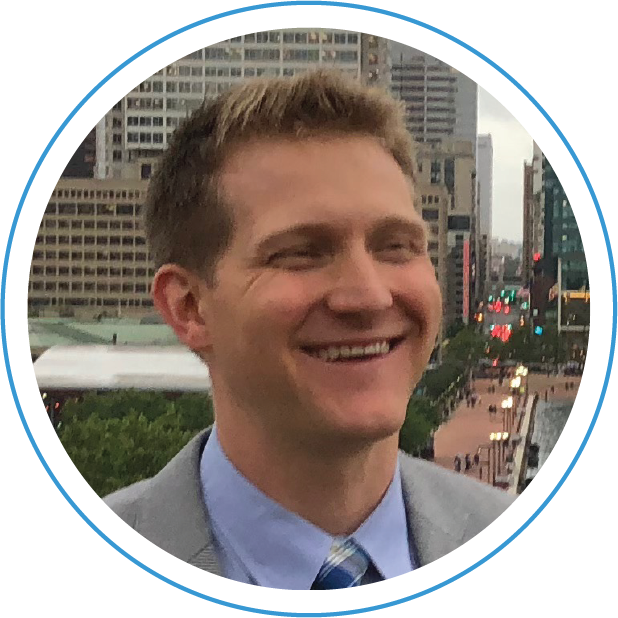 Written by Tyler Blackwell
Tyler Blackwell is a board-certified medical physicist with extensive clinical experience in radiation therapy. He is active in several AAPM committees, has served as secretary-treasurer for the Northwest Chapter of AAPM, and is an ABR orals examiner. Tyler dabbles in real estate investing and loves preparing breakfast for his two kiddos.
Keep up with Radformation
Get the latest news, announcements, and product
updates delivered straight to your inbox.