Learn more about the various credits offerings at our 2021 Virtual Tradeshow events.
Radformation has applied to offer credits for several activities during the 2021 Virtual Tradeshow. Webinars may be accredited for physicists (CAMPEP), dosimetrists (MDCB), and therapists (ASRT). Every webinar does NOT offer all three types of credits, so please carefully read over the credits information for each event. Attendance for the full duration of the presentation is required in order to receive credits, with no partial credit offered. A registration report will be used for confirming attendance.
Please see below for other common questions that you may have regarding receiving CE credits. You must complete all evaluation forms by 7/30/2021 in order to receive credit for each webinar that you attended. If you do not submit the form by this date then you will not be eligible for credits.
Webinars & Credits Applied For
Below are the dates, times and credits that were applied for each webinar during the Radformation Virtual Tradeshow: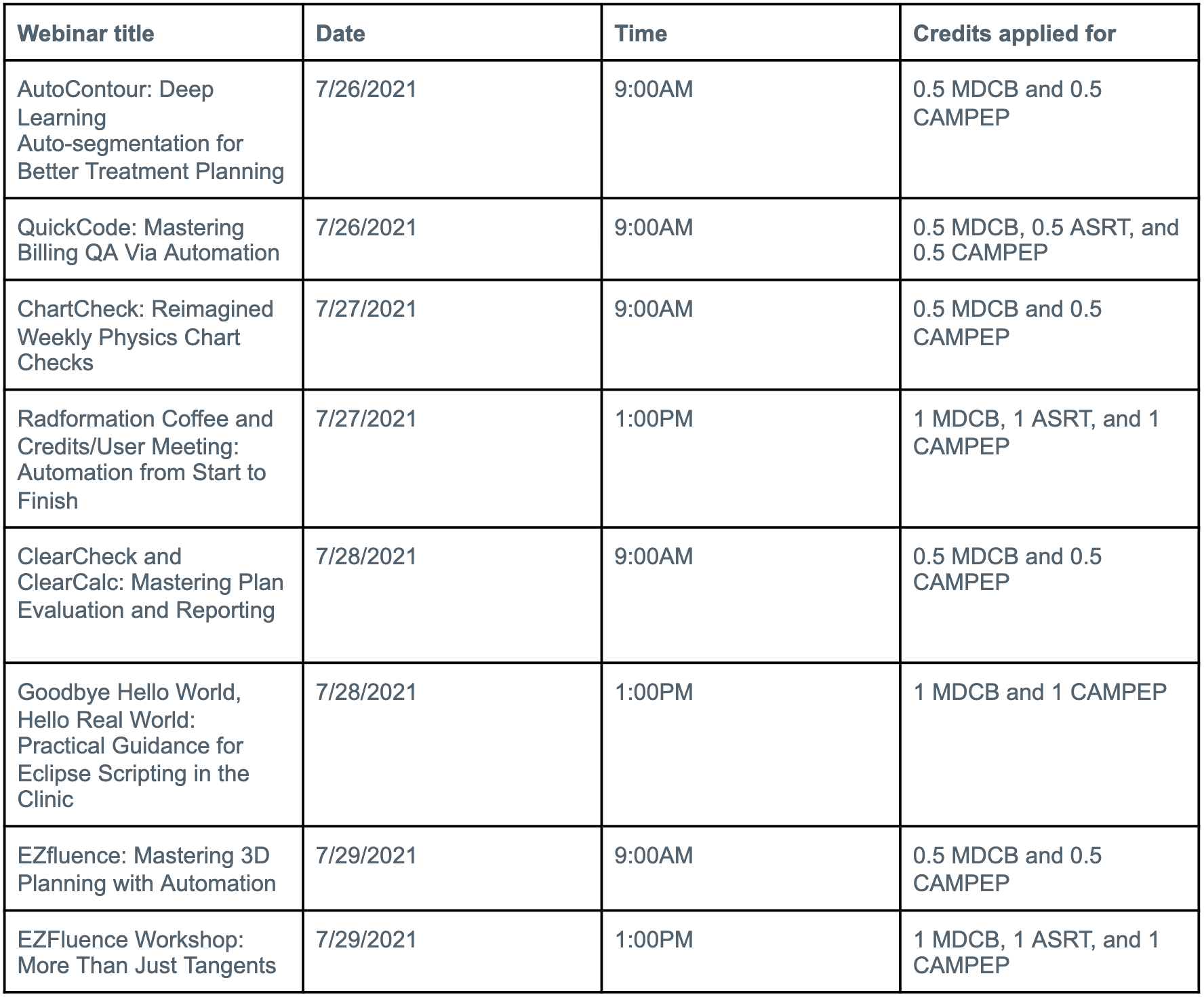 CE credits are available for live events. The above schedule lays out the dates and times of each live event. Credits will be available for live events and the evaluation forms will be open until 7/30/2021.
Watch the live webinars. Please be sure to sign up for the live events prior to the event. You will get a reminder for each event an hour before the live event. If you miss the live event the recording and evaluation form will be emailed to you.
Fill out the evaluation form. During the live event, a link to the evaluation form will be provided to you. If you do not see the link don't worry, you will receive an email three hours prior to the event with the evaluation form link, or you can click HERE to find all of the recordings and the evaluation forms.
Technical difficulties? If you are having issues viewing the live event you can reach out to info@radformation.com or tkohler@radformation.com. You will also receive an email with the recording and evaluation form three hours after the live event.
CE credits are available for event recordings. The presentation will be recorded, and credits will be available for live or recorded viewing until 7/30/2021.
Watch the webinar recordings. All recordings will be located HERE on the Radformation Virtual Tradeshow page until 7/30/2021 with the credit evaluation form. The recordings will also be emailed to all registrants (those that attended and absentees as well) after the live event (within three hours of its conclusion).
Fill out the evaluation form. If you are watching the recording please do not forget you still must fill out the form in order to receive credits for the webinars watched.
Accessing the recordings on the tradeshow page. The recordings of each webinar will be posted on our page three hours after the live session concludes.
Evaluation Form Rules and Regulations
Add the correct information for each accreditation as prompted by the evaluation form. To receive credits, please fill out the evaluation form for the credits you'd like to receive.
For MDCB credits: Provide your MDCB member number.
For CAMPEP/MPCEC credits: Provide the e-mail address associated with your CAMPEP account.
For ARRT/ASRT credits: Provide your ASRT ID number.
Evaluation passing score: In order to receive credits, you must get 8 out of 10 questions correct. If you do not achieve 8/10 on the first pass, you can go back and edit your answers if you need to.
Verify your score. After you fill out the evaluation, you can verify your score on the page following your submission.
Complete the evaluation by 7/30/2021. Each attendee must complete the required evaluation. Instructions on accessing the evaluation will be provided during the webinar, included in the follow-up email to those that attended, and embedded with each recording on the Virtual Tradeshow page.
Problems With the Evaluation Form Link?
Check the browser that you are using. If the Google form is not working, try using a Chrome browser.
Check your network. Sometimes hospital networks don't allow access to "cloud" applications like google forms. In that case, try creating a mobile hotspot or try the link while on a different network (home, etc.) if the form is not working for you.
Continuing Education (CE) Credit Availability
We are currently offering ARRT credits for the following events:
QuickCode: Mastering Billing QA Via Automation
EZFluence: Mastering 3D Planning with Automation
Coffee & Credits: Automation from Start to Finish
Program certificates are granted for all attendees that require them. On each evaluation form please indicate if you are in need of a certificate for MDCB/ASRT credits.
Certificate time frame. If you indicate that you are in need of a certificate, it will be sent to you within one week after the application for credits closes.
Watching in a Group Setting?
Webinars may be watched in an individual or group setting. You may watch the webinars in a group setting, however, all attendees seeking credit must have registered for the event and must individually complete the quiz provided at the end of the webinar session.
Provide host information. If you watch the webinar in a group setting, provide the host's first name, last name, and e-mail address used to log into the WebEx Session. Attendees in a group must also provide their MDCB member number and/or CAMPEP-associated email address.
Time frame to receive credits: It typically takes about 2-4 weeks for the credits to process.
Don't forget to check your account. Please check your MDCB, ASRT, or CAMPEP account to confirm that you received your credits.
If you have not received your credits, please contact Taryn Kohler at tkohler@radformation.com.
Keep up with Radformation
Get the latest news, announcements, and product
updates delivered straight to your inbox.